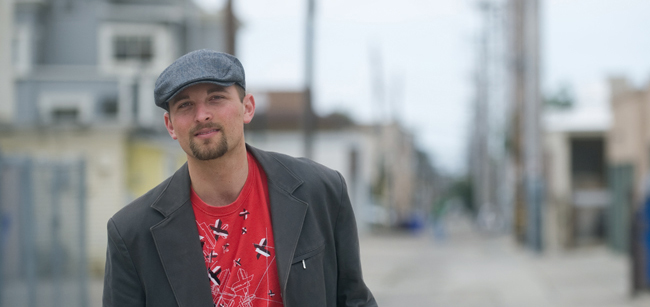 Okay – BIG, HUGE announcement! I am thrilled to be adding a new member to the Flutter Glass team – Jacques Spitzer, wedding videographer extraordinaire :). I first met Jacques several months ago when he found a wedding I had shot featured on Elizabeth Anne Designs. Jacques and his lovely fiance, Tiffany, are getting married in June of this year, and I could not be more thrilled to be shooting their wedding! When meeting Tiffany & Jacques, I discovered that Jacques happened to be a wedding videographer. I checked out his work and we both thought it would be a great fit for Flutter Glass! I have so many clients ask about whether I offer videography, and now I am thrilled to be able to reply with a big huge "YES!" Jacques has been making wedding films since 2009 – his work speaks for itself, with every fragile little moment caught in vivid HD. I really love how different all of Jacques videos are – each wedding seems to have a very personal touch that reflects the personalities and wedding styles of his clients :).
David + Lauriah Flutter Glass Videography from Flutter Glass on Vimeo.
Here is what some of Jacques' clients have to say about his work:
"Jacques is an amazing videographer! He displayed true professionalism, insight and fun while shooting our wedding over the summer. Jacques edited and mailed our wedding video, trailer and more in the fastest time I have seen working with either videographers or photographers. His wedding trailer literally put many of my friends and family into tears. I would highly recommend Jacques to anyone. You would be getting the best quality you can find and you will be extremely happy with his service!"
-Brian E.
"Your video helps us relive this special day and it really captured the emotions and excitement we all felt that day. I cannot thank you enough for your passion for video productions, your commitment to our event and your meticulous attention to details. Friends that have taken time to view the video have shared with me that they get all emotional and teary eyed when viewing it. This is priceless. Thank you again for this gift!"
– Lupe O.
I'm so thrilled to be working with someone with such professionalism and talent! As we add more videos, you will be able to view them on our new Vimeo page. Shoot me an email if you want to find out more about adding a wedding film to your new or current wedding package or feel free to contact Jacques personally here :).