Many couples that I meet with LOVE the idea of doing an engagement shoot, but they just aren't sure about where to go or what to wear and all the other details that might seem a little overwhelming at first. After all, if you are taking engagement photos, you probably have enough on your plate!!
The best advice that I can offer is to make your engagement shoot YOUR own, make it FUN! Here are some ideas that might inspire you:
Your Favorite Places
Choose a location that means something to you! Maybe it's where you had your first date or where he proposed, or it could even just be your favorite hangout spot!
The Great Outdoors
When it comes to photos, natural light is everyone's best friend! If you go for an outdoor shoot, make it a place that you both enjoy: the park, beach, desert, boardwalk, forest, amusement park, city, or even your own neighborhood!  Great photos and a happy couple can bring out the romance in any location outside ;).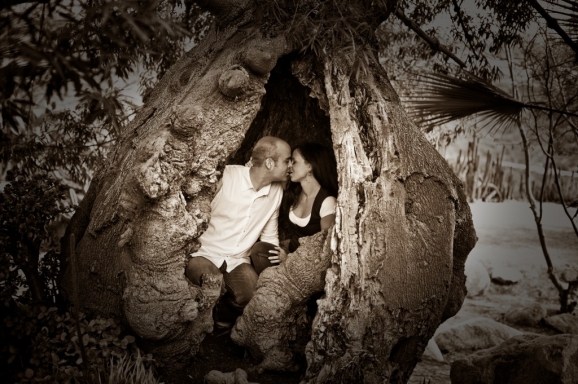 There's No Place Like Home
Sometimes the best place for your engagement shoot is in your own home! If you have put a lot of work into making your home an expression of YOU, this can be a great option. This photo shoot by the very inspirational Noa of Feather Love Photography is a great example of how a home-engagement shoot can show off your personalities best! Also, don't be afraid to get pets or kids involved in some of the shots as well!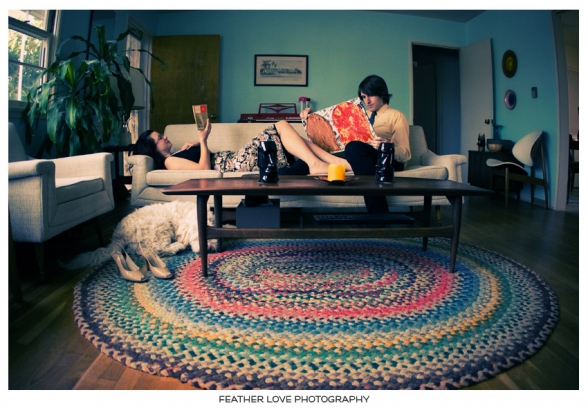 Retro LOVE
Many people have a love affair with a decade that was before their time. Maybe for you it's the Roaring 20s or the Swingin' 60s, or maybe you even want to take the time machine to the 1800s. This photo of engagement photo of Chandra & Andy was taken at Corvette Diner in Point Loma :).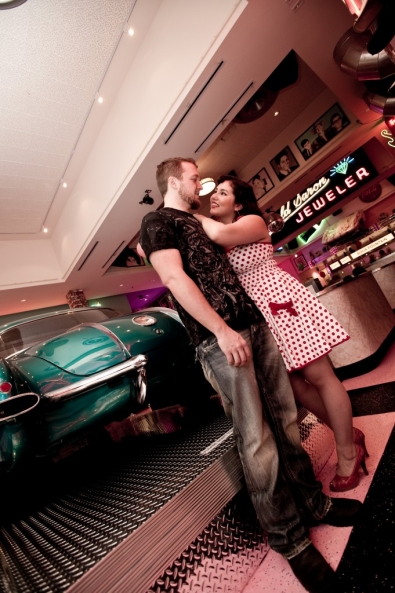 Dancing in the Moonlight
If you want to add a little drama to your engagement photos, a night shoot might be perfect for you. The city is a great place to do a shoot at night because it can provide some unique lighting opportunities! I love this photo provided by Cohn-Frankel Photography, and kudos to both the couple and Lauren (the photographer) for being daring enough to do a night shoot in the rain!

Style it Up!
Accessories and props can be a lot of fun and add character to your photos. Don't have any of your own? We can get a designer to style up your shoot! I can't get enough of this portrait session by Sloan Photographers. So gorgeous and whimsical!


Look Your Best!
Photos in the shade or with soft sunrise, sunset or overcast lighting will likely be the most flattering on you and your new spouse-to-be. Keep this in mind when scheduling your shoot!


I hope this post has been helpful, and if you are still unsure, I'm always up for a good brainstorming session! :) Thank you to all the photographers who shared their fabulous work in this post!